Disclaimer :
The concept and the scenes of this story are completely my creations and belong to me. All of my work has been copyrighted by the copyright law and cannot be reproduced or republished or even POST on any public site [ FB, blog, etc ] or other forums without my written permission.
Do not steal my work for any personal or commercial use without my permission. I do not permit anyone to change the names of characters of my writings to replace em with other soaps actors in their stories or anywhere 

else…

 Respect the hard work of writers and  Stop Plagiarism !!!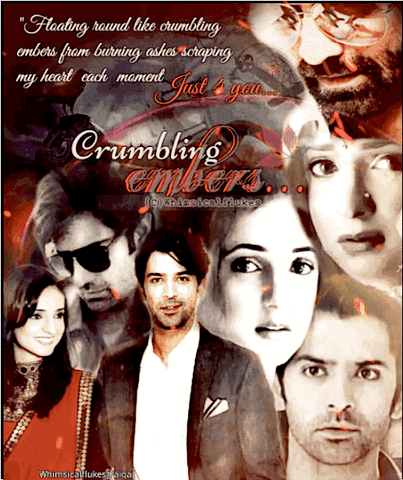 By: Mysticaldivine
A broken heart has shed tears of blood in a darker time
A knife couldn't hurt or feel the wound by that time
Stabbing words  left a mark on my numbing heart
Which never forgot to echo your name in bleeding time
My Heart always felt in your hold as "forever" all the time
I found  this as a mirage which meant "Nothing" sometimes
Your eyes, which always delivered your true heart to me
Never felt that much cold hatred before that frozen time
Love and caresses of yours saved my life always on time
Your tender touch, soft kisses, caring words all this time
I remembered All by  taking the whip of a heartless crime
Loving you is a crime, then I will commit that, every time
A wet face of mine with a smile thinking of you this time
Love is blind, but the game of "Love" is my favorite all time
A knife stabbing my heart to erase your name just crumbled
Seeing the last ember of love still burning through all this time
By: Faiqa
"Crumbling embers" is a story of crime, mystery, thriller, suspense, and romance"…
"Here is a story that's stranger than strange as the concept and display will be totally new
Before we begin you may want to arrange:, a cushion under your lappy, a cushion for a comfortable back, and maybe something to eat and drink. A small note that my story is eerie and full of suspense, brimming with factual, real-life drama and stuff with narrow escapes, and characters of many remarkable shapes with extreme and some incredible abilities and emotions and above all menacing villains to brew some anger, hate, and probably some will show you the light of life.
This story will be totally different than the original serial. New characters while some won't appear, but each and every character has a prominent role as You all know, all of my characters are important and provide vitality to my stories from animals to even elements of nature
Extreme humor and pain will be seen evidently. This is intense, passionate, emotional, factual, reality-based stuff along with spices of mystery, suspense, romance, pain, guilt, hatred, misunderstanding, separation and much more than a love story, but definitely, ARSHI will be the main central part as usual…
So ready your mettle to read and tackle the dark and light side of this tale.Steady your heart for toe-curling romance among our beloved couple Arshi with hounding wolves like villains.
It's time for my story's mysterious start…"
IF You want a NOTIFICATION of this story before PM, Please Follow my twitter account
.
@Faiqa_Mysticald
Do leave questions/suggestions/ short comments,but don't feel burden…as Readers'  POV  always helps me to improve shaping up my storyline…
always looking forward to it…
Updates will be weekly, or when it will be ready…Please forgive me, but you all know I never leave my story incomplete or put on hiatus for months or weeks…
  keep pestering me …
Bribe me!!!
                                                     ~ oOo ~
~CLICK on the "CHARACTER SKETCH" TO SEE THE IMAGE ~
Nicknames of the characters
Abhilash- Abhi
Nitin- Niti
Sabina-Sabi
Neil Kurt – NK
Rishav Kundra-RK
Sahil Nadin -SN
Karan Bhasker-Bhasker
Veer Gupta- Khushi's stepbrother.
Madhumatti Raghvir-Daadi
Abhay Singh Raizada-Arnav's grandfather
La-Lavanya Rathor[Arnav's ex Gf/daughter of Rathor]
Mr.Rathor [MARCOS Chief]
Hope you enjoy this Bumpy Ride with me…Here presenting you…